Photography, in the context of this annual festival, is considered a form of art while it is also seen as an opportunity to trigger socially engaged dialogue. 'Krakow' provides a framework of ideas and what it requires, in return, is critical spectatorship. In line with many photo books being produced recently, the general concept of the contemporary 'photography festival' – as they have been popping up around the world – is to stimulate knowledge production plus offering a collective aesthetic experience. This is a very urgent and necessary addition to our understanding of photography. Provided, it must be added, that this potential is lived up to by an effective form of mediation. Indeed, what is of utmost importance, when inviting an audience to participate meaningfully in the 'visual public sphere', is a thoughtful and effective curatorial outline.
Krakow Photomonth has a good reputation when it comes to triggering visual thinking, as it functions as a meeting place where local crowds and segments of the international, professional realm of photography intersect. For past editions, added to the expertise of a team of local cultural activists, independent curators have been invited to deliver excellent and thoughtful exhibitions, and selected (European) 'experts' have also been mentoring the latest crop of talented visual artists. Regarding the latter: Show Off is presenting premiere projects by young artists who have been shortlisted via an open call, and then were guided towards a collective exhibition.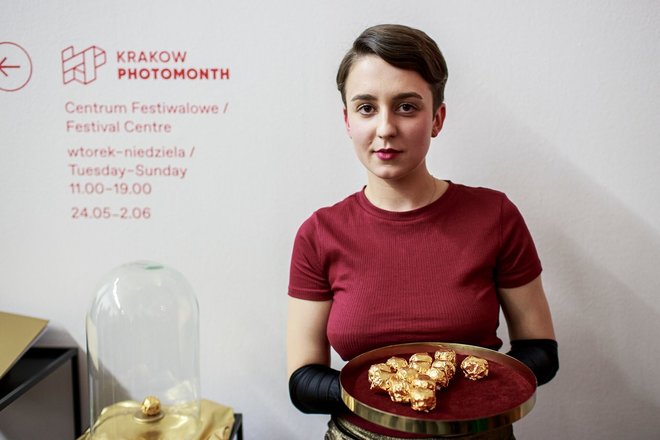 Although this edition of Krakow Photomonth lacked the overall supervision of a meta-curator – which, consequently, made for a more hybrid format – Natasha Christia (Greece, 1976) was selected to produce a group show. Christia's curatorial take includes a research-based mix of still photography, moving image, and installation. For 'You Are What You Eat', she invited six artists (Simon Brugner, Sinem Dişli, Klaus Pichler, Andy Sewell, Henk Wildschut, Ksenia Yurkova) to challenge and expand on questions related to our contemporary food culture – meanwhile also challenging existing notions on the medium of still photography, expressing a certain distrust in its core (mute) qualities. The demand for artistic 'discours' is supported by dense and complex texts; artists statements that set out the architectural contours of overall intentions, but also more conceptualised forms of writing (e.g. Yurkova's appropriation of recipes as arriving from a Stalinist cookbook, or Wildschut's index for his imagery as arriving from 'Food', his publication on food production).

Impression of Show Off, Krakow Photomonth 2019
This year's edition of the festival is promoted as "a kaleidoscope of different visions and ways of understanding the medium of photography." This, indeed, results in a cumulation of imagery that stimulates visual thinking… but the articulation of it all is also a bit too scattered. That is, I often felt the need for a stricter and more consistent guidance. Like We Like It, the theme of this year's Krakow Photomonth Festival, is advertised as 'an open-ended collection of stories, images, and questions', and while most of the propositions as exhibited are visually intriguing (e.g. Tomek Tyndyk's theatrical Hatching) and as solo shows sometimes very well executed (e.g. Stefanie Mosshammer's project on Rio, Land of Black Milk), a meta-curatorial structure would have made for a more effective overall communication of ideas.
Alas, there is still plenty of food for thought. We are what we eat, as Natasha Christia proposes, and that also includes our consumption and expansion of visual culture. We, as critical observers and – mind you – participants of the ever more baroque cultural environment are therefore in dire need for festivals such as Krakow Photomonth; for adventurers who dare taking the risk to walk a more slippery route towards the future of photography. What is required from its audience, meanwhile, is a good set of teeth and a slow process of digestion.
See also: our Portfolio on Krakow Photomonth participant Jan Jurczak