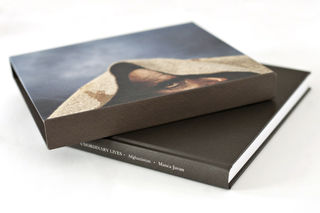 Slovenian photographer Manca Juvan has released the English version of her book Unordinary Lives, a documentary project about the contemporary struggles of life for Afghan people. Including photographs taken over a period from 2003-2009, the book is divided into chapters covering different areas of social focus, including mental illness suffered by the people as a result of the ongoing conflicts, the rise of opium growth in the face of much-needed employment and the inevitable accompanying addictions, orphans, refugees, women's issues, and more.
The photography of Unordinary Lives is beautiful, sensitive, and personal, yet even that wouldn't be significant without such a strong and profound narrative. By choosing to cover a wide swath of societal issues, Juvan manages to give an overall impression of the enormity of the problems that the Afghan people are facing. The comprehensive approach illuminates the complexity, and the book manages brilliantly to express the interlinked nature of circumstances, as well as consequences and side-effects often overshadowed or sidelined by the primary narrative of war. The high-level approach does not distance itself from the emotional impact on individuals though, as the photography itself, a combination of intimate portraiture and reportage, creates a sense of immediacy and immersion. Occasional short quotes punctuate the project to just the right effect, offering a vocal dimension to the people behind the photos in a succinct and delicate way.
Released as a first edition of 700 copies, Unordinary Lives is available for sale on the book's web site.